Latest Update: January 18th, 2020
2020 February Vacation Camps
During this school vacation week, we are offering vacation tennis camps for adults and juniors; no membership required! The adult camps will run from 9:00AM-12:00PM and junior camps will run from 2:00PM-5:00PM. Ages for juniors are between 5-18.
Dates for February camps are: 2/17, 2/18, 2/19, 2/20, and 2/21. You may register for only the days you want. Space is limited, so first come first serve!
We will also be offering an adult cardio class 12:00pm-1:30pm on those days.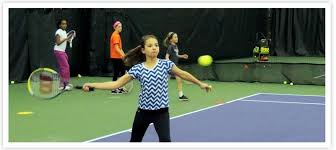 Adult camp is $63/day and junior camp is $63/day. Cardio is only $27/day. Again, no membership fee is required for these February tennis camp programs!
Middle/High School Boot Camp
As part of our vacation week offerings, we will be hosting a much more intense camp that is designed for match-experienced middle and high school players.  Extensive "station" drilling and conditioning followed by match play. Shot patterns, strategies and a lot of hard work will comprise this program:
The camp will be held at MLTC West Monday-Thursday from 1:00-4:30PM
Players may register for one or more days.
Space is limited to only 14 players.
Players are subject to approval.
The format is 1.5 hours of drilling with 2 hours of supervised match play.
The cost is $74/day
For questions or to register for adult camps and adult cardio classes, contact Cheryl at Cheryl@marcuslewisenterprises.com
For questions or to register for junior camps (ages 5-10, red and orange ball),
contact Sally at Sally@marcuslewisenterprises.com
For questions or to register for Boot Camp and for regular camp (ages 11-18, green and yellow ball),
contact Christi at Christi@marcuslewisenterprises.com.