Latest Update: September 8th, 2019
Free Pickleball !!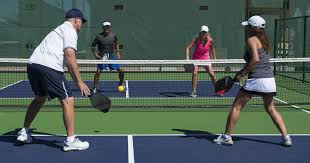 We are pleased to be offering FREE intro to Pickleball lessons through the month of September for those who have never participated in our program.
We will be offering group lessons on the days of Sunday 9/15 11-12, Monday 9/16 12-1 and Wednesday 9/18 12:30-1:30.
What if you cannot make those times?  We will also offer a one hour group lesson for any groups of four or more for those who can't make the dates specified above.
Please contact Pete for questions or to sign up at Pete@marcuslewisenterprises.com